"Before I found Jarred at Tidewater Fitness, I was working out in the gym, and trying to make do on my own. I was doing ok. But I lacked any structure and consistency. I struggled to gain any ground in my fitness goals and decided to give personal training a try. Jarred's attention to detail and showing me proper form had me able to perform challenging routines and stay motivated. The online program and mobile app changed everything. I went from working out three days a week to five. It is so easy when you have your trainer right there with you on your phone. My workouts, and Jarred's encouragement, helped me release the stress of daily life. He has been my biggest cheerleader. I am stronger and more fit than I have ever been. Even though I have moved out of the area and away from Tidewater Fitness, I continue to use Jarred as my trainer. He has adapted my routines to my new workout situation. I highly recommend Jarred English and Tidewater Fitness."
– Sandy E.
"Jarred gave me the motivation and structure I needed to look great, feel better, and get into peak performance. With Jarred's program and guidance not only do I look better, but week after week my strength and lifts continually increase and my circuit times continue to decrease.  In working with Jarred over the last 14 months, I've dropped 35 lbs and 7 inches off my waist.  Jarred developed a unique program and plan to fit my goals, and he constantly altered and updated my fitness plans to coincide with my abilities and goals. I highly recommend Jarred to anyone who is looking to improve their fitness, whether you're looking to drop weight, get stronger, look and feel better, or all of the above."
– Randall W.
"I highly recommend Jarred and Tidewater Fitness! I had a health problem where I was having difficulties walking and exercising. I expressed my apprehension with exercising and that it had the potential to make my condition worse– Jarred took it very seriously and was quick to check in and make sure that I was doing okay every step of the way. I later went to a PT therapy with the Mayo Clinic and they were astounded at my progress- all thanks to Tidewater!"
– Katherine A.
"I started working out at Tidewater Fitness a little over a ago. Nine months prior I had been diagnosed with hypothyroidism. I had 75+ pounds to lose and I wanted to do it the right way. Even though I had been an active person prior to my illness, I had no idea where to begin. I was over 230 pounds and wearing a size 20. I  decided a professional would be the best plan for me and I chose Tidewater Fitness. After training with Jarred and meeting with an Endocrinologist to help find the root cause of my problem, I began to see great results. Currently, I've lost over 40 pounds and wear a size 14. After six months, I was able to do a work out I hadn't been able to do in two years! When I realized how far I had come and what I had been through it brought tears to my eyes. I not be where I am today without Jarred and Tidewater."
– Susanne H.
"I went to Tidewater Fitness because I needed help losing weight and staying focused. Jarred provided me with the education to sustain my weight loss while he was providing me with great workout plans that catered to my needs. I've lost over 14 pounds and 2.5″ off my waist."
– Andrew J.
"Having moved to Savannah recently I was looking for a trainer to work with me who would be able to meet the high standards that I had enjoyed at my previous fitness facility. After much research, I found Tidewater Fitness and its proprietor, Jarred English. Jarred has more than lived up to my high expectations. Tidewater Fitness is a very clean, comfortable, and friendly place, and Jarred is professional, attentive, knowledgeable, and caring. He provides the highest level of strength and conditioning training and general health fitness exercise program. I am very glad to have made the acquaintance of Jarred, and look forward to a long and successful relationship. It goes without saying that I highly recommend Tidewater Fitness to anybody looking to either get in shape, or stay in shape."
– Robert B.
"In 3 months at Tidewater I was able to cut my waist by 2 1/2 inches and shed 10lbs. The workouts are definitely challenging but yet are fun. Jarred is very knowledgeable about all aspects of fitness and nutrition. I honestly can't say enough great things about him and Tidewater. I promise you will not be disappointed with him as your trainer!!!"
– Patrick W.
"Tidewater Fitness has provided me with amazing results. My results have come from both the intense workouts and following the nutrition advice provided by Jarred. I feel more confident and am very satisfied with my results."
– Polly S.
"My wife and I have been working with Jarred for several months now. He has been endless with his commitment to us, his encouragement, and his challenging both of us to push our own flexibility and strength limits, while improving our diets and overall fitness. A super-nice guy that balances a not-at-all-intimidating demeanor with a concerted drive for us to be our best selves. I highly, without hesitation, recommend Jarred! You won't be sorry."        
– John C.
"Before Tidewater Fitness, I was in a lot of pain from an auto accident. Most of the pain was in my right shoulder. Sleeping was a huge problem. I couldn't find a comfortable position and it hurt to turn over. Work and recreation were limited. I had to hire people to do things I was used to doing on the farm and at home
Tidewater's program helped me build strength back in my shoulders and upper body. The longer we worked together, the more my pain began to go away. After about two months, I was back to my old self and able to do things such as yard work (including using a chain saw)!"
– Barry G.
"I am so glad a friend recommended Tidewater Fitness. About 12 years ago I managed to lose 45 pounds, but the weight has come back on +5 pounds and just 6 weeks ago I hit a weight I just couldn't tolerate. Last year I had tried dieting alone and just couldn't lose much. Even adding in some walking didn't help. It was discouraging watching my slim friends enjoying eating and drinking and not seeming to gain any weight. I really needed to lose weight and get into shape because I was starting to notice mobility issues occurring, like not being to get up off the floor without hanging onto a table. Jarred has a great balanced and very personalized approach. He understood that I was a person, who has spent her career in the food industry, so we started making some simple adjustments to my diet, that I volunteered I could stick too. Then we started working out 2 times a week. Again he tailored the program to my age and abilities. Happily results are happening at a good steady sustainable pace. At the end of week 5 I had lost 7 pounds and 2-1/4 inches off my waist. I feel like my core is strengthening and am enjoying my ballroom dance lessons more. Also, much to my delight, I am getting up off the floor without the assistance of the furniture. I know it will take a year to reach my ultimate weight and fitness goals and I will continue on with Jarred because I know that he will help me to maintain the new me. He has been a great motivator in the kindest and most supportive way. I am 63 and I believe that this fitness program will definitely help me enjoy for many years the beautiful walkable city to which I have retired and many a happy meal with new friends. It is Jarred's balanced approach to fitness and nutrition that I treasure the most. He has my highest recommendation."
– Nancy R.
"After two months of working with Tidewater Fitness twice a week, I have significantly improved strength and have begin to "reallocate assets." In my case, that means 2.5 inches off my waist! Jarred keeps workouts varied — no boredom here! He is sensitive to physical limitations I have as a result of previous injuries and diminished strength. His holistic approach encompasses not just conditioning, but also nutrition and lifestyle. I highly recommend Jarred to anyone considering the services of a trainer."
-Tim R.
"I've been working out for years without major results. Now, in just the 10 sessions I've had, I have noticeable results that just took Jarred's know-how, training, and technique. He's knowledgeable, courteous, flexible, and friendly. He is committed to bringing you to your goals , and ultimately past them if you are putting in your full effort every time. I would recommend Tidewater Fitness to anyone wanting to learn proper form and to have your butt kicked and your clothes drenched when you leave. Thanks for your help so far! I look forward to so many more sessions, as long as I never see that rope again. :)"
-Kolin P.
"My husband and I have been training with Jarred twice each week for the past couple of months and already we both feel stronger and are able to do physical things more easily than before we started working with him.
We recently hiked Catawba Falls in Pisgah National Forest in North Carolina and we made it all the way to the top! It was a huge accomplishment for both of us to hike for more than three consecutive hours on a steep and rocky terrain.
What I especially appreciate about Jarred is his attention to the individual needs of both of us. I am limited in my upper back and neck and Jarred takes this into consideration as he creates my ever-changing work-outs. If I experience discomfort in my knees during a work-out, Jarred adjusts the exercises for me.
Jarred is a gentle yet firm trainer who is very focused and well-educated. He has introduced us to helpful apps and resources in the community for diet and other related services.
We can't say enough good things about Jarred! He is a great trainer and a wonderful person!"
– T.J. R
"Jarred is a true professional that understands the ins and outs of strength/cardio training. He listens to the goals of his clients and knows the best way to reach those goals! I would recommend Tidewater Fitness to anyone that has a strength or weight loss goal but has struggled to achieve it. He's is a great motivator, coach, and friend!"
– Adam H.
"Jarred has been a very excellent trainer and I highly recommend using him. I am 61 and have been wanting to learn free weight training for a number of years. The approach at Tidewater Fitness has been outstanding and I am very happy with the results. Jarred has guided me very systematically with an approach that is very focused and technical. He watches every move very carefully fine tuning my posture and position to get the best results very safely. Every training session is very specific and I have made excellent progress each week. I plan to stay with them for a long time."
– Peter B.
"I was diagnosed in 2011 with a thyroid disease that caused me to gain a lot of weight, feel tired, sick all the time etc.  I have had trainers in the past that were not a good fit for me ( they pushed me away from the gym) as well as nutritional programs and different gyms that too failed. 2014 was the first year since being diagnosed I was beginning to feel better. In December 2014 I made a promise to myself that I would quite the excuses and make a lifestyle change to be healthier. I called Tidewater Fitness in January and immediately felt like Jarred really cared. We set goals that were short term and long term as well as food adjustments.  He is so encouraging and understanding which makes it easier.  I have now been working with him for about 2 months and the results are amazing! My whole attitude towards life and being healthy has completely changed. I really owe it all to Jarred for helping me transform to a happier me ( my fiancé really appreciates it too.) . For the first time in a long time, I feel confident.I do not complain about going to work out or complain about eating healthy because it is now apart of my everyday routine. Thank you Jarred for seriously bringing me back to the healthier/happier me!"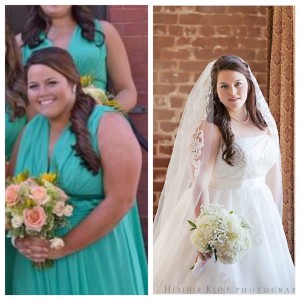 – Elizabeth C.
"With Tidewater Fitness I saw very fast results in only 10 weeks. Incredible gains in strength. The customized approach that Jarred uses is tailored toward your goals and eliminated any weak zones thoughout my body. At the end of 3 months I was equally powerful from right to left, and had gone up 100lbs on all the larger exercises. I highly recommend Jarred and Tidewater for anyone who is serious about their goals and transformation. And if you are someone who has hit a wall with your fitness then Jarred will help you tear it down and go next level. He monitored my progress every week and edited my program so I never plateaued."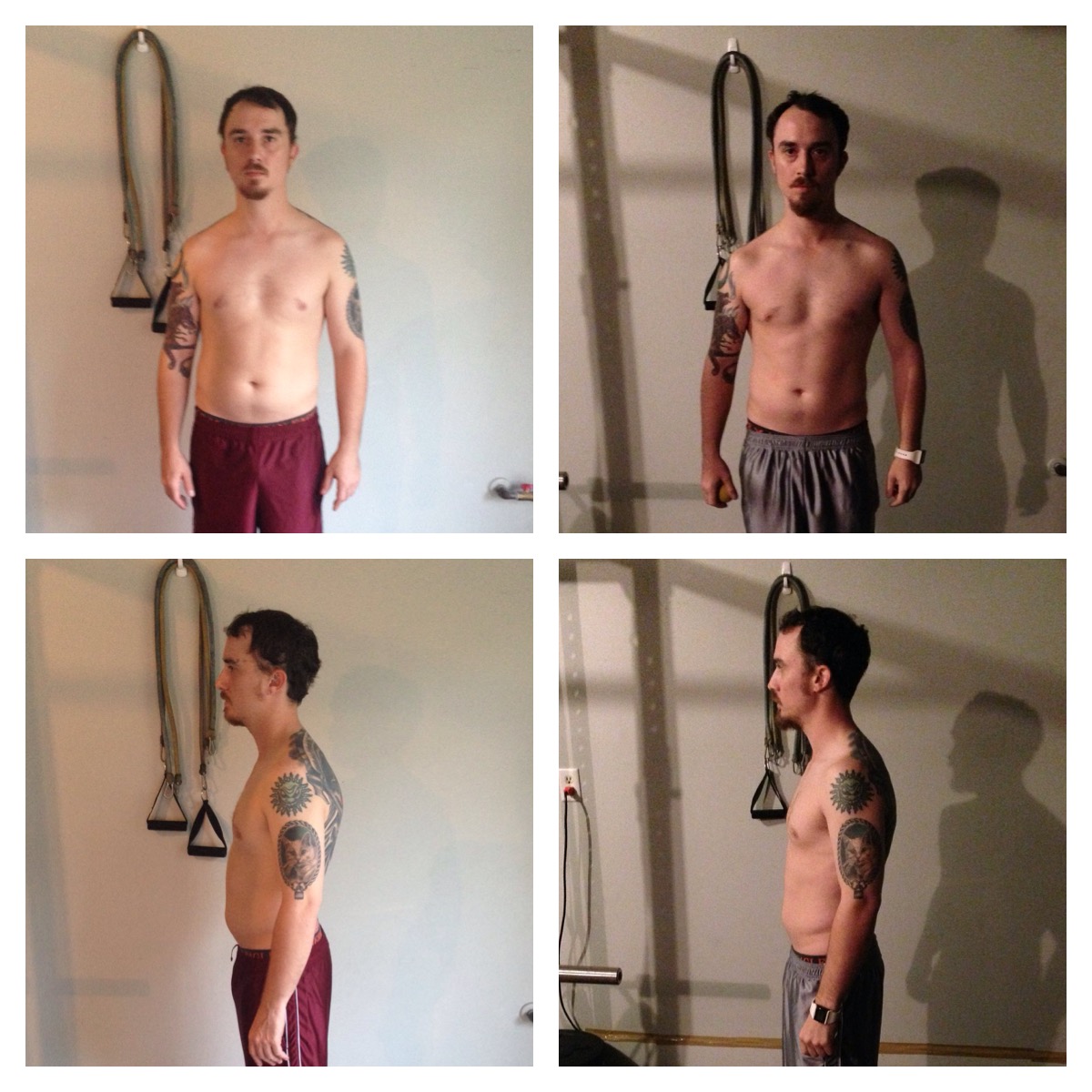 – Zach F.
"My boyfriend and I have been working with Jarred since September 2014. I think actually meeting with a personal trainer once a week for six months straight speaks volumes of the trainer!
We keep going because we see results, and because there is ALWAYS something to work on. Jarred makes sure we are constantly evaluating what we eat, and urges us to make better choices when it comes to food and drinks. And even when we just had an "ok" week in terms of food, he is still really encouraging.
In terms of the workouts, it never gets boring, and most importantly for me, he makes sure what we are doing is safe.
We highly recommend Jarred as a personal trainer!"
-Lori W.
"Jarred is amazing. I can't imagine ever going to another trainer. He knows so much and his sessions are always productive, instructive, and a great work out. When I work with him, he gives me 100+% of his attention. He really pays attention to details and doesn't let me do anything incorrectly. I look forward to working with him every week."
-Bill M.
"I so appreciate Jarred's thoughtful approach to exercise and health. He clearly paid very close attention to my history and, coupled with his assessment, came up with an exercise program that precisely meets my needs. His careful observation and subtle corrections have helped me make tremendous improvements, and that has translated to my activities outside the gym."
-Diana S.
"I really appreciated working with Jarred these past months at IFAST in Indianapolis.  His coaching and encouragement were keys for me to do those crazy Split Squats!  Of course, there were many times when I sought his expertise and many more times when his subtle corrections to my form/positioning were crucial in accomplishing my training goals.
I appreciate Jarred's concern for his client's well-being, his friendliness, and his knowledge and approach to fitness training.  It was always a pleasure, as well as a good workout, to have him as a coach/trainer at the gym."
– Ruth R.
At Tidewater Fitness, I was shown some exercises to help strengthen my shoulder and target other areas of my body that I wanted to improve upon. Jarred also encouraged me to take a look at my daily diet and make some healthy changes which I began doing.
As I saw myself getting stronger, I decided I would attempt a 5k run on October 6, 2012.  My goal was to run the entire race without stopping to walk.  I had to walk part of the only other 5k I had attempted some 20 years earlier.  Did I mention that I'm 48 years old?  Jarred encouraged me to set a goal to "shave off" some  time each week leading up to the race.  Imagine my surprise when I came in 14th out of 59 runners with a time of 24 minutes and 56 seconds!  (My best time in the weeks leading up to the race was 29 minutes).  I did it!  I surpassed one of those "limitations"  I thought I would have for the rest of my life.  Jarred was excited for me and has continued to encourage me in my personal fitness goals.  I continue to grow stronger and more fit each week.
I'm now wearing a size 32 waist pants again for the first time in over 25 years.  The workouts and change of diet have helped me make it through the daily "stuff" of life.  I thank God for using Jarred to help me look and feel the best I have since my early 20's.  I'm now ready for the next chapter of my life!"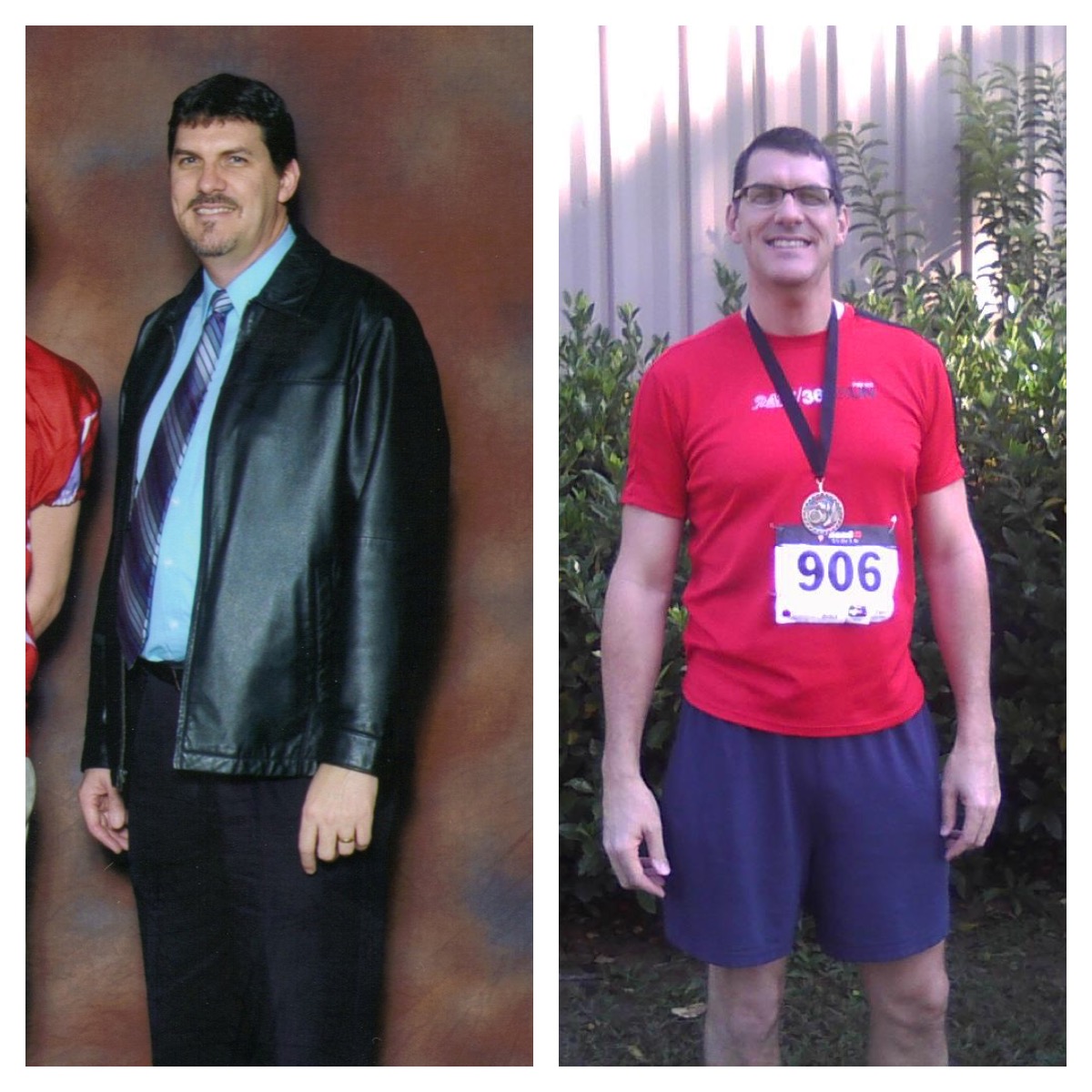 – Jody B.
"My wife and I are extremely pleased with the results we have seen with our personal trainer Jarred English. He has not only provided us with guidance from a physical aspect to help meet our goals, he has also provided nutritional guidance. As a result, my wife is pleased with the transformation that has taken place and even more excited that she has returned to her original weight before the pregnancy of our daughter. I have also seen the toning and strength improvements that I was seeking.
Even with only two training sessions per week, in less than a year Jarred has helped us create the bodies we want and allowed us to enjoy a healthier and more active lifestyle!"
– Shanna and Randy H.
"Jarred brings a wealth of knowledge, expertise, and passion to training.   In my two years of working with different trainers and interns, Jarred is one of the best I have had.  He is polite, professional, empathetic, yet direct.  He shows you he understands, but that also he wants you to be careful, safe, and master the move so the results are optimal.  He gives simple, yet visual and clear coaching cues.  And, he demonstrates.  He stands back and he leans in.
I have had to work through many injuries and have my eye on competitive power lifting.  Jarred was mindful of my goals and of my personal challenges.  He gave me the feedback and coaching I needed to improve.  He was one of my favorite trainers to work with because I knew I would improve my technique.  His design and delivery are strong.
Jarred presents himself as a teacher.  And the lessons I learn from him will be ones I continue to use over my lifetime of training, lifting, and living."
– Lyn J.
"During my twice weekly visits to IFAST, Jarred would help me learn and execute the various parts of my program.  He provided technical guidance; and, just as importantly, he provided a watchful eye and ever-welcomed encouragement.
Over the next few months, we came to respect his expertise, value his friendship and know him as an engaging, enthusiastic young man who is genuinely interested in his clients' welfare and progress.  His appearance, manner of communication and personal demeanor were always top notch.
It is not difficult to read into the above very high personal and professional regard I have for Jarred; and I would not hesitate to vouch for him to a prospective employer or client."
– John R.
"Jarred is a thoughtful, well spoken professional. When you get a little closer, you find that his patience and faith take Jarred to a whole other level of warmth and passion.
When you are working with Jarred one on one you will find that he will always have your best interest in mind and I only wish we were closer in proximity so I could get around him more. For now I will just have to resort to social media.
If I had to pick someone to train with that I was sure would consider my personal goals along with staying on the cutting edge of the physical fitness industry, it would be Jarred English."
– Larry S.
"I had the pleasure of being trained by Jarred during his internship at Indianapolis Fitness and Sports Training. He's living proof that trainers don't need to yell at clients to get results. Jarred is gentle, empowering, intuitive, and wicked smart. He works well with a wide variety of clients and was tuned into my personal goals; the assistance he provided in helping me learn the trap-bar deadlift was invaluable. Working with Jarred made me feel invincible. He has sacrificed a lot to get trained by the best in the business. It was a blessing to benefit from his passion and talents."
– Kirsten S.